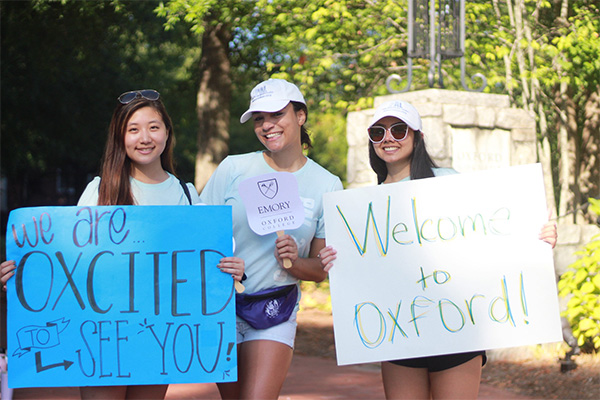 Spring Orientation
---
Students who begin at Oxford in the spring are an integral part of our campus community. Oxford's student life thrives with its tight-knit student body, and we are excited to welcome you to campus in the spring. You will be able to take full advantage of the opportunities and experiences offered on campus, including leadership in clubs and organizations, research on campus, employment opportunities, and more. Our residential and campus life staff, as well as your faculty advisor, will make sure that you are well prepared for a smooth transition to Oxford's community.
Welcome Program
We offer a special orientation program for students beginning in the spring semester. Throughout the summer and fall, Spring Admits will participate in an online transition course for all students called Emory Essentials: Oxford edition 2021-2022. This course is designed to help introduce academic and social life at Oxford College. Spring Admits will also attend a unique Spring START Welcome Program prior to the start of the semester. 
What is Spring START Orientation?
Ready to START your Oxford experience? Spring START Orientation will begin after move-in on January 8th and last until the first day of classes. After you move into your Residence Hall, you will begin the program. You will be assigned to a START group led by our wonderful team of SPRING START Leaders. These sophomore students are experts on the Oxford campus and will help guide you through your first days on campus.
Spring START Orientation provides you with the tools to make the transition into life on campus as smooth as possible. We will connect you with other students, faculty, staff, and campus resources. You will have the opportunity to START exploring and developing your leadership at Oxford College through activities that foster community building and leadership development! You will receive a detailed schedule when you check in! We can't wait to START the Spring with you!
Spring START Orientation Schedule Overview
Saturday, January 8 | Move-In Day!
Get ready to START your Oxford experience! You will be able to explore campus through campus tours, learn about campus resources at the Oxford Expo, participate in an Oxford tradition called the Coca-Cola Toast, and meet your START group!
Sunday, January 9
Get excited to make new friends! You will have the opportunity to build a sense of community and engage with faculty and staff through engaging activities and fun team builders!
Monday, January 10
Get ready to explore leadership opportunities on campus! You will learn about how you can develop as leaders during your time at Oxford through engaging events, activities, and START group meetings!
Spring START Orientation Registration
All students are required to register for Spring START Orientation. Registration will close at 11:45pm (EST) on December 10.