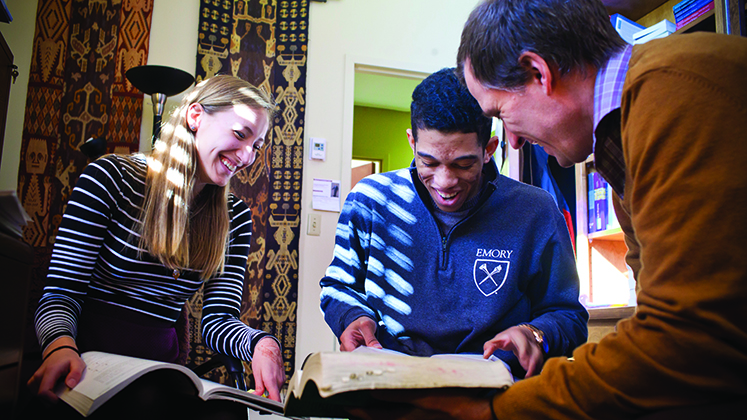 Academic Advising
Oxford students take a broad range of academically rigorous courses to build an understanding across disciplines and fulfill their general education requirements. It isn't until the second year after exploring Oxford's curriculum, and laying the ground work for their upper-level coursework, that students officially declare their major. 
Academic Advising Preparing for Class Registration
Academic Advising is an integral part of the faculty-student relationship at Oxford College. Each fall Oxford students will enroll in a Discovery Seminar Course led by a faculty mentor who will also serve as the student's faculty advisor. Students should apply for their Discovery Seminars early summer.
Additionally , students should complete the First-Year Advising Questionnaire. The responses to this questionnaire help the Advising Support Center share helpful information with your Discovery Seminar Faculty.
First-Year Advising Questionnaire  (available May 15, 2019)
Students will have the opportunity to meet with their assigned faculty advisor during New Student Orientation, prior to registering for classes. We encourage students and faculty to meet regularly throughout each semester to discuss the students' interests in majors and professional careers, research opportunities, course selection, and development of students' personal, professional, and scholarly identities. 
Preparing for Class Registration
Canvas- Oxford Orientation Course
Students will register for classes during new student orientation. Over the summer, students will have access to an online Canvas Course to prepare for this process and learn more about academics at Oxford. Canvas is Emory University's Learning Management System where you can view course information from your desktop/laptop or mobile device. This summer you will be enrolled in an "Oxford Orientation" course where you will complete a variety of short assignments. 
To be most prepared for registration, we strongly recommend reading the information and completing the online modules thoroughly. Module

availability 

and due dates will be listed on the checklist. 
Learn more about navigating Canvas.

OPUS- Registration 
Students will use the OPUS platform (Online Pathways for Undergraduate Students) to register for classes. To prepare for class registration and to view any outstanding "to do" items on your OPUS checklist, students can review how to navigate OPUS by watching these helpful videos:
Please contact the Advising Support Center if you have questions about academic advising or course registration.